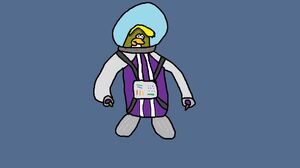 Captain Green is a famous space-penguin. He was first seen at the
Space Adventure
in August 2012. He revealed the color
Navy Green
and leads the CP Army. His puffle is
Speedy
. He has a show on
CPTV Channel
. He is also an EPF agent and a SFCP agent. He is the captain of the SS Astro Barrier.
Appearance
Taller than other penguins due to large spacesuit. He is Navy Green and found always in a spacesuit. He has the wig, The Trigger, on. Although called Captain Green his spacesuit is purple.
Trivia
Captain Green was the first penguin to get The Trigger.
He is in Penguin Disco.
He went on Rockhopper: The Island Quest. He was turned into stone on Day 5 but SecretBox12 brought him back.
Ad blocker interference detected!
Wikia is a free-to-use site that makes money from advertising. We have a modified experience for viewers using ad blockers

Wikia is not accessible if you've made further modifications. Remove the custom ad blocker rule(s) and the page will load as expected.