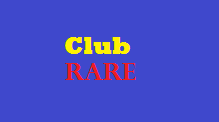 Club Rare is a Club Penguin Private Trainer that can be used in CPPS. The creator of this trainer is Aparnaa. It will be released in March 11, 2013.
Features
Get Rare Items (Ex: Beta Hat)
New Transport Phone that can let you go to Rare Places that dosen't exist anymore or not released yet.(Ex:PSA or Card Jitsu Shadow)
New Chat!
Bring Back Parties
New Page in Penguin Style: Party Hats!
Get New Colors that in Club Penguin never has it (Ex:Lavender)
New Website!
Fast login times!
Website
www clubrare com
Ad blocker interference detected!
Wikia is a free-to-use site that makes money from advertising. We have a modified experience for viewers using ad blockers

Wikia is not accessible if you've made further modifications. Remove the custom ad blocker rule(s) and the page will load as expected.