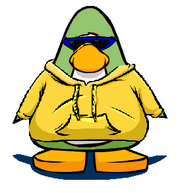 El Shades is the fifth member of the Penguin Band. His color is Pistachio. He wears the yellow hoodie and blue sunglasses. His instrument isn't actually an instrument, because he is a rapper. He joined at the Music Party in October 2013. The first song he was in was All I Ever Wanted. He was strangely once in a relationship with Larry for 2 days until Larry joined the SFCP. That doesn't count as a relationship.
Ad blocker interference detected!
Wikia is a free-to-use site that makes money from advertising. We have a modified experience for viewers using ad blockers

Wikia is not accessible if you've made further modifications. Remove the custom ad blocker rule(s) and the page will load as expected.