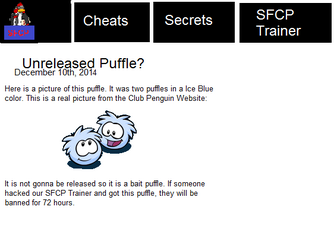 Ice Blue Puffle is an puffle that is hinted by the SFCP website on December 10th 2014. It was on the blog named "Unreleased Puffle?" This is a unreleased puffle as said in the name.
Trivia
You could also see it on the Club Penguin Insiders page labeled forums.
This is a bait puffle/item. If someone got that, they hacked the SFCP Trainer and got banned for 72 hours for cheating.
Some people said that it looks like a white puffle.
Ad blocker interference detected!
Wikia is a free-to-use site that makes money from advertising. We have a modified experience for viewers using ad blockers

Wikia is not accessible if you've made further modifications. Remove the custom ad blocker rule(s) and the page will load as expected.