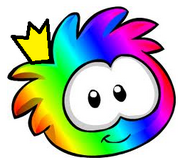 King Rainbow Puffle I is the second king after Billybob. He won over 6 others.
Candidates
Klutzy
Wanting to be better than Herbert for once.
Gary
Wanting to ban Herbert from CP.
Rainbow Puffle (Winner)
Has no owner, so he can do anything he wants.
Billybob
Wanting to be king again.
Rookie
Wanting to make make Club Penguin crazy!
Cadence
Wanting to make the island go disco.
Rockhopper
Wanting to put Club Penguin, Rockhopper Island, Dinosaur Island, and all other islands he visited into one big island.
Results
Rainbow Puffle (1st)
Billybob (2nd)
Rockhopper (3rd)
Votes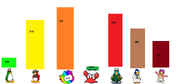 Ad blocker interference detected!
Wikia is a free-to-use site that makes money from advertising. We have a modified experience for viewers using ad blockers

Wikia is not accessible if you've made further modifications. Remove the custom ad blocker rule(s) and the page will load as expected.