Narvy The Gadget Guy is Gary's older brother. He was born on January 12th, 1980. He made bigger inventions and put a 4000 at the end. His color is
Deep
Purple
. An example of an invention is called the Cheese 4000, just giant plain cheese with 400 wro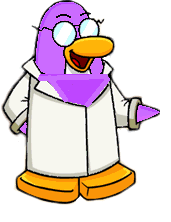 te on it (not 4000 because he ran out of ink). He also thought that some of them are his failed designs like the
thingamanaj
. He has a gold puffle named Invert. As a kid, he tried to always cheer up young
Larry
when Gary and Aunt Arctic teased him.
Trivia
He was seen in a Level 10 Snow Power Card.
He is the founder of SFCP.
His first song is called "Machine Problems".
He created a fruit called a Banapple.
He was an EPF & PSA agent.
Ad blocker interference detected!
Wikia is a free-to-use site that makes money from advertising. We have a modified experience for viewers using ad blockers

Wikia is not accessible if you've made further modifications. Remove the custom ad blocker rule(s) and the page will load as expected.