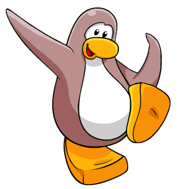 Rosy Brown is a color on Club Penguin which costs 20 coins for all penguins in the Gift Shop. It was first available in the Music Jam 2012 after Cadence released it along with Lavender. It was only available for members during the party but released for all after it. The famous penguin colour contest creator Katoy90 made it famous, but it was actually suggested to her by Jjoeyxx.
Ad blocker interference detected!
Wikia is a free-to-use site that makes money from advertising. We have a modified experience for viewers using ad blockers

Wikia is not accessible if you've made further modifications. Remove the custom ad blocker rule(s) and the page will load as expected.